Losing weight takes effort and although sometimes it's hard to stay motivated! At first, you tend to believe that you can not eat anything and your shopping list is reduced to a trickle. For people who love stews, it's even worse. However, be aware that the sauce is not prohibited during a diet! If it is prepared with healthy, low-fat ingredients, there is no reason to deprive yourself.
So to help you keep on track and lose weight with pleasure, this article has selected 4 stews that are both relieved and tasty.
Grilled salmon with spices and sauce with avocado
Say no to dull and dry-cooking dishes and say yes to a delicious grilled salmon spices with a light sauce with avocado!
At the time, count 10 minutes of preparation time and 10 minutes of cooking time.
To make this recipe for 4 people, you will need:
4 salmon steaks
1 ripe avocado
1 fresh onion
1/2 tsp of ground cumin
1/2 tsp of sweet paprika
Garlic
Parsley
Tabasco
Lemon juice
Salt pepper
Simple to make, the recipe comes in two stages.
First, coarsely cut onion and avocado. Put these pieces with Tabasco, garlic and parsley in your blender and mix everything. Also add a pinch of salt and pepper before placing the mixture in the fridge for one hour.
Secondly, preheat the oven grill position. Then take care of the salmon steaks, brush a mixture of paprika, cumin, parsley and a little salt and pepper.
Finally, place your salmon for 10 minutes under the grill pavers.
Serve immediately with your cold avocado sauce and a green salad.
A light delight for your taste!
The sweet and sour chicken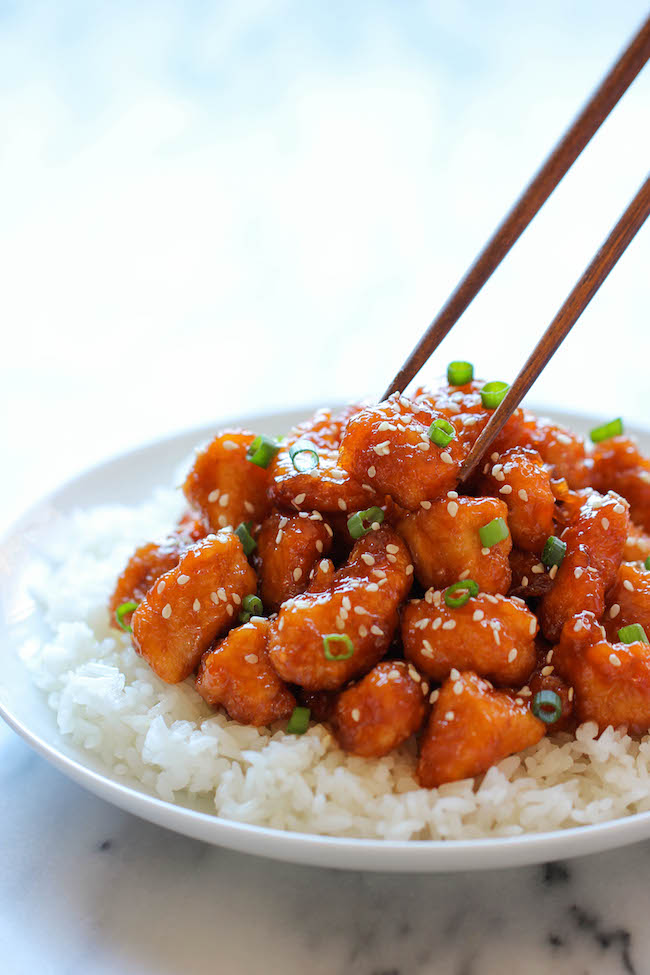 To lose weight, you can also count on a known recipe and yet rarely consumed during a diet: the sweet and sour chicken, but in light version of course!
To cook this recipe for 4 people, you will need the following ingredients:
4 chicken breasts
2 onions
2 tablespoons olive oil
4 tablespoons rice vinegar
Sauce salt lite soy
1 tablespoon cornstarch
1 tablespoon baking sweetener
4 pineapple slices
2 bell peppers (red and green)
Salt pepper
20 cl tomato coulis
Start by cutting the chicken into cubes and reserve them in a separate dish.
Then cut the pineapple and slice the peeled onions.
Then take your peppers: wash them, remove the seeds and cut them into cubes.
Then put the onions, peppers and pineapple in a nonstick skillet with olive oil.
Saute for 10 minutes and then add the chicken breasts.
Leave the cooking to continue (medium heat) for 8 minutes and take care to stir from time to time.
That done, add the saute mixture of a tomato sauce, cornstarch, soy sauce, vinegar and sweetener. Let thicken while mixing.
Your dish is ready!
Serve immediately with fried vegetables or a green salad!
Pasta with mushroom sauce
Among the recipes that you can do to continue to keep the line: creamy pasta with mushrooms are allowed! We hear a lot about carbohydrates during a diet. They are often discouraged, yet they are not necessarily high-calorie ingredients. The problem with pasta or rice often lies in the sauce that accompanies them. But it is totally possible to add them to the menu if you cook with a light sauce!
For pasta with mushroom sauce, that will help you lose weight, here are the ingredients you need for 4 people:
350 g pasta of your choice
250 g mushrooms
1 tablespoon of cream to 0% fat
Olive oil
Grated parmesan
Chopped parsley
Salt pepper
Know that this delicious recipe will take only 15 minutes of preparation and 20 minutes of cooking.
To begin, clean and slice the mushrooms.
Then take a pan and saute for 10 minutes over low heat in olive oil.
At the end of cooking, add parmesan, garlic (peeled and crushed) and cream.
Meanwhile, cook pasta in salted water for the time indicated on the package.
Drain and add them to your sauce. Sprinkle with parsley and leave on the heat for 2 minutes. Stir regularly preparation.
Serve hot and enjoy with pleasure!
The veal stew with mushrooms
It is traditional French cuisine recipe, veal stew with mushrooms is available in version for slimming which help you during your diet.
To prepare it, it is very easy! Ingredients for 4 people:
1 kg of lean veal blanquette for
1 clove garlic
1 egg
1 tablespoon vinegar
Fresh parsley
A bouquet garni (bay leaf, thyme and others)
A handful of mushrooms
Salt pepper
Cut out your veal into cubes and let them brown in olive oil over medium heat.
Then take your 2 cloves garlic, then chop finely. Add them to your preparation.
Sprinkle with parsley.
Then put water in your pan, until height of the meat.
Then add the bouquet garni and the Paris mushrooms.
Add Salt and pepper.
Cook 2 hours over low heat.
In the end, take an egg yolk, mix with a teaspoon of vinegar in a bowl. Add this mixture to your stew, stir and serve.
You can accompany this dish with plain basmati rice and indulge yourself even in your diet!
That 4 easy recipes will allow you to continue to lose weight while making you happy time to time! This notion is very important to maintain motivation in the long term.
Enjoy your meal !